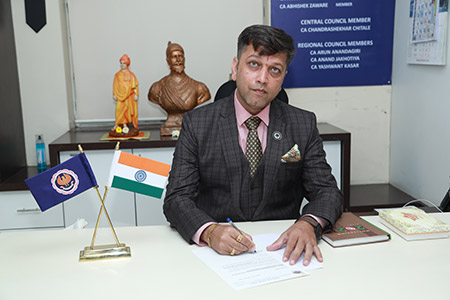 Dear Members,
It gives me an immense pleasure to assume office as Chairman of such Prestigious Branch of ICAI.
I would like to thank all my Committee Members for unanimously electing me for the said position I was elected for the term 2019-22 on the Managing Committee of Pune ICAI. I take this opportunity to thank you for showing faith in me.
Since the March 2020 the whole world is facing the pandemic Covid 19 and it affected a lot on human being life style. It has also affected somehow on our profession .But with the great support from all the members of Pune and students of Pune Wicasa the branch has achieved great success on all front and won the 2 awards at national level and also 2 at regional level.
This is fruit of the hard work of the managing committee, students, Branch staff and all members of the Pune. I can't stop myself to give my special thanks to all ex-officio for their continuous support and the guidance.
On behalf of the Pune Branch managing committee I assure you that in last year of this tenure we will work to the best possible in the interest in the branch. Let us prepare ourselves for the new opportunities and challenges future is bringing to us. I am happy to communicate that our branch is geared up to serve for futuristic CA Profession.
This year at Pune ICAI our activities would be focusing on E-Square's i.e.
Ethics, Expansion, E governance and Expertise All 4 E's of the E-Square are
Self-explanatory itself about our vision. I am hopeful that our vision of E-Square will give us the very tasty fruits in coming era.
To plan the activities for the year various sub-committees for have been formed. I am sure with the help of all the members and students we will be able to implement our initiatives effectively. Besides, we plan to form various Task/Action Teams to accomplish various tasks to be undertaken. I shall update you in this regard from time to time.
Coming to future programs, Pune ICAI's unique Yearly Mega Event, Bank Audit Conclave and many more events has is been scheduled. The calendar is already planned upto June 2021.
I must give my compliments to the members and supportive staff of Pune ICAI who have been very hardworking, responsive and active. I look forward for their support throughout the year as well.
May this New Year add colours of good health, prosperity and peace to your Life. I also pray almighty to save this world from the worldwide Covid 19.
Last but not least your suggestions and feedback are pertinent to decide upon our course of actions. Please feel free to reach out to me on chairman@puneicai.org and also on 9850838461 at any moment 24*7.
Happy to serve better, Jay-Hind, Jay ICAI.
CA. Sameer Ladda,
Chairman, Pune ICAI