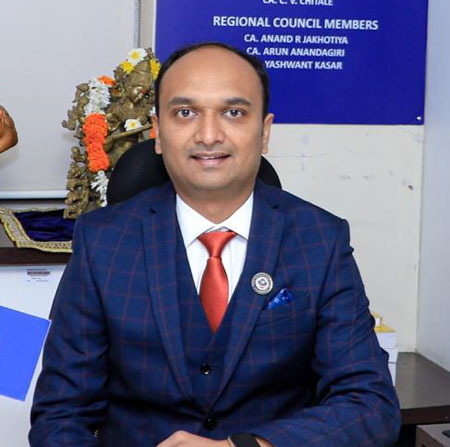 Dear Members,
"A warrior never worries about his fear." a quote perfectly suitable for our brave Students appearing for exams in this delicate situation. I am happy to share, the CA November exams are being conducted in Pune and across India. All the norms of social distancing and safety are being followed in a proper manner in all the centres.
September month is usually a most exhilarating month for Chartered Accountants. But this year being different, extensions of Tax Audit and Income Tax Returns are in December, hence the year will be ending on a hectic note.
In month of November various activities were carried out. Most special event was Sub Regional Conference organised by Western India Regional Conference hosted by Pune ICAI. This conference covered the topics like Paradigm Shift in Corporate Taxes, Fraud Detection and Prevention, New Professional Ethics Standers, Global Reporting Initiatives - Emerging Trends, Prospects in RERA and Use of Auditing Tools. SRC was inaugurated at auspicious hands Air Marshal (Retd.) Bhushan Gokhale sir wherein he reiterates role of CAs as Partners in Nation Building.
This event was more special because WIRC office Bearers CA. Lalit Bajaj, Chairman – WIRC of ICAI, CA. Murtuza Kachwala, Secretary – WIRC of ICAI visited Pune during the SRC. CA. C. V. Chitale, CCM – ICAI and CA. Yashwant Kasar, RCM were also present. During their visit various meetings with stakeholders were arranged on November 27, 2020. Team WIRC interacted with Shri. Siddharth Anil Shirole, MLA emphasing the Role of CAs in these pandemic times. He assured all support to Professional Activities of ICAI. Later entire Team interacted with Co-operative Commissioner's office with Dr. Shri P. L. Khandagale, Hon. Addl. Commissioner & Registrar (In charge), Co-operative Societies, Pune wherein various issues of professional interest were discussed and on this occasion Pune ICAI's publication "Sahakar Setu" was also released by officials of Department of Co-Operative Societies, Pune.
Interactive meets with various stakeholders such as Shri. Sudhir Kumar Bukke, Hon. Joint Charity Commissioner Joint Charity Commissioner, Later Pune Shri Niraj Bansal Commissioner of Income Tax (Exemptions), Prof. (Dr.) Nitin R. Karmalkar, Vice Chancellor and Dr. N. S. Umarani, Pro-Vice Chancellor of Savitribai Phule Pune University, and CA Milind Kale - Chairman & other officials of The Cosmos Co-operative Bank Ltd. Pune Cosmos Co-Operative Bank. Pune were held on that day.
Interaction with the Past Chairmen, MCM, Past RCMs, CCMs of Pune branch of ICAI, and Pune WICASA was also organised with WIRC office Bearers. I am glad to inform all you that, New website of Pune ICAI was launched during the Sub Regional Conference.
Team WIRC sought for blessing from Lord Ganesha during Darshan Of Shreemant Dagdusheth Halwai Ganpati Mandir.
As IT plays an important role in the life of a CA, virtual program on "Advance Excel" was conducted for the members to help them enhance their skills. Along this virtual CPE meeting on "Masterclass on Accounting Standards" for discussing and explaining the changes in different Accounting Standards and a meeting on Service Cell by Addl. CST office took place.
On the occasion of Diwali in the month of November Satyanarayan Pooja took place on the Pune branch office to let go of the evil over the good and to bring more light and prosperity and as a helping hand Pune ICAI distributed essential products to needy people.
As month of December, we are eagerly looking for the National Conference for CA Students which will be organised by Board of Studies and hosted by Pune ICAI, the dates for the same will be announced shortly.
I would like to conclude with Martin Luther King Jr. quote "The ultimate measure of man is not where he stands in movement of comfort, but where he stands at times of challenge", so let us stay together and fight this pandemic together.
Last but not the least wishing you all a Merry Christmas and a Happy New Year.
Jai Hind, Jai ICAI!!!
Happy to Serve,
Abhishek Dhamne,
Chairman, Pune ICAI
December 1, 2020,
कार्तिक 1, 1942 (Saka)