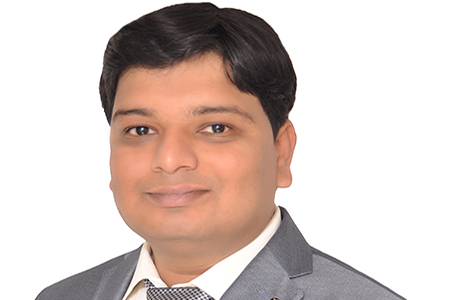 Dear Professional Colleagues,
I am delighted today and humbled as I accept the prestigious post of The Chairman of Pune Branch of WIRC of ICAI, which is one of the most prominent branch in Western Region and I assure you that I will be super active in fulfilling all my commitments throughout my tenure. I thank all my professional colleagues at the branch level for boosting confidence and reposing trust in me to lead the branch along with my office bearers for the year 2022-23.
I am also grateful to my prior Chairman CA Sameer Laddha, and other Chairman's for their support and encouragement extended during the previous years. I look forward for the continued support from my past and present office bearers. I am also thankful towards the admin department of the branch for working diligently and whole heartedly. With everyone's support, I have achieved this coveted position and I express my kind gratitude towards all of them.
As you all know that Pune Branch has been awarded the Best Branch as well as best WICASA award for the year 2021-22. I take this opportunity to heartily congratulate the entire predecessor team for their successful tenure in the Pandemic year.
It is matter of great pride for us that our own multifaceted CA. Yashwant Kasar and CA Ruta Chitale, who hails from our branch, has been elected at the Regional Council Member. Heartiest Congratulations to them for their success.
"There are no secrets to success. It is the result of preparation, hard work, and learning from failure."
We at branch level are contantly reaching out to members, students and entire professional community at large and interact with them in order to increase their knowledge in terms of education as well as the current updates in the profession. As professionals, one of our biggest challenge is how we perceive and adapt to recent changes in work environment and technological developments. Digitalization is now rapidly becoming the core of all business activities and we are rapidly implementing things that were only discussed but never completely implemented. To ensure that our members continue to remain at the cutting edge professionally, we at branch have invested lot of time and effort towards creating webinars with experienced speakers.
This year also we will be organising various events at the branch level and I am sure that you would be delighted to see the different kinds of events. To start with, we have Bandhavgarh RRC visit scheduled in the month of May. Also I am pleased to announce that we are having 36th Regional Conference of WIRC at Pune location. Different seminars highlighting the importance of Outsourced Accounting and Tax Compliance practice in India (US and India Perspective), GST series on Real Estate, Foreign Trade Policy and Achieving $5 trillion economy and many more such interesting topics have been scheduled. Also Pune Branch has started the reading room facility for the students to prepare for their upcoming examination. For the students benefit, many motivating and growth related sessions have been organised. You can constantly check our website for the list of upcoming events. We also make sure to send you a mail/message updating the event details.I welcome all Chartered Accountants – those in practice as well as industry –to play a more proactive role in our vibrant association and be a part of our programmes and get the benefit.
Last but not the least, I wish all the very best to all the students who are appearing for the upcoming examinations.
I request all my professional colleagues to share their ideas, visions and suggestion's on my email chairman@puneicai.org.
"If you really want to do something, you'll find a way. If you don't, you'll find an excuse."
I assure you that I will work at my level best for the overall growth of our profession.
Stay Safe!
Best Regards,
CA Kashinath Pathare
Chairman